Seoul searching
I have been absolutely blessed this year regarding the travels I've been able to go on. My latest trip was to Seoul, a city that is definitely in my top 3 of all time. While all the touristy attractions are great, I came across some nice tips to add a little extra (fun) to your time in this Asian metropolis. Here is my take on travel tips for Seoul, South-Korea.
Shop like a local
Go shopping in boutiques in Hongdae, where you can find the latest Korean fashion for great prices. Make sure to take a good look, since everything can only be bought in one size. If you happen to love the Japanese brand UNIQLO, make sure to visit the one in the Lotte World Mall, as this store carries the limited edition collections. Oh, and while you're there, you can take a look at the Lotte World Tower, a new landmark in the making.
Fire up on the cheese
Eat cheese on cheese on cheese with dalkgalbi. This is a chicken dish, which is prepared at the table. It contains chicken, veggies and rice cake. When the dish is almost fully cooked, the waiter will serve the cheese. The best ones are the one with cheese in the border, rather than on the whole dish. This way you can portion the amount of cheese you put on your mozzarella filled rice cake. My vessels need angioplasty just thinking about this meal again.
Senses overdose in Myeongdong
The way to a man's heart is through food. The way to a woman's heart is through food and beauty shopping, for which the Myeongdong disctrict is the perfect place. Make sure to meditate before going to Myeongdong as your senses will be overwhelmed by neon lights, beauty shops, and the best smelling street foods. It is the best neighbourhood to buy your stock of sheet masks and other beauty supplies. Food wise, try the grilled mega scallops, seafood pancake, and dumplings, they will definitely not disappoint and are great snacks during your shopping breaks.
Smooth your skin
Do a body scrub in a Korean bath house Jimjilbang. I would recommend Dragon Hill Spa in Jongsan which is a nice big bath house, where you can take your baths more anonymously than in the smaller local bath houses. After trying out all the baths and saunas, buy a body scrub from the ladies in the locker room. Your skin will never have felt smoother. Unless of course you're brave enough to get a body scrub from the Korean Aunties, which I definitely was not.
Seek adventure at the North Korean border
A must do when visiting Seoul is the JSA or DMZ tour. Tours are offered to bring you to the DMZ (demilitarized zone) and JSA (Joint Security Area) at the border with North Korea. It is an experience you won't forget as at some areas, you'll not only be able to see into North Korea, but also hear the propaganda music, something us living in free countries are not familiar with. The highlight of the DMZ tour is the visit to the 3rd infiltration tunnel, where you're allowed to go 73 meter below ground level to see the 1,6-kilometre-long tunnel that the North Koreans built. During the JSA tour the highlight and nerve-racking attraction has to be the moment you're standing on the actual border between the two Koreas, at the famous blue houses (if you take a picture here, the geotagging function on your phone will say you're actually located in North Korea). I have been on both tours, but if I had to recommend one I'd advice the JSA tour.
Dance until you have burned the calories of a pizza slice
Clubbing in Seoul is a lot of fun, but can be quite crowded. The clubs where I found the balance of just enough people, without everyone getting into my personal space were Noise Basement 1 and 2. Here, a nice crowd mixed with locals and internationals are dancing the night away to urban music. Entrance fee in one of the two also gets you into the other, while also getting two free drinks. Don't forget to end the club night with a slice of bulgogi pizza at Mafia Pizza, which is just around the corner. Make sure to ask for extra cheese and chilli flakes on your slice, to add some spice. Going for pizza after clubbing might just be my favourite part of the whole night.
Hug a raccoon while sipping on your coffee.
While cat café's are popping up everywhere, Hongdae is a few steps ahead with an actual raccoon café. At the raccoon café one can enjoy a drink while petting raccoons. Not your usual pet, which makes it that much more fun!
Dongdaemun Design Plaza by Zaha Hadid
Architecture lovers and non-architecture lovers can eat their heart out at the Dongdaemun Design Plaza. This building is an impressive landmark designed by Zaha Hadid, in the middle of the city. During the day the building can be admired in its full galore, but also make sure to visit at night. The building is surrounded by tons of lights in the form of a flower field. It is very Instagram friendly and did you know it was the backdrop of several Korean Drama series?
Fill up your Instagram feed
Koreans take their coffee quite serious. A coffee shop can be found at every street corner and coffee is cheaper than tea in 99% of the cases. Décor at Korean coffee shops are proof of that. Favourites are the cappuccino with cinnamon at Market Lounge in Hongdae and the white tea at Misfits in Bukchon Hanok village.
Immortalize your trip in Hanbok
Hire a Hanbok – traditional Korean clothing - and make (gangster) squad goal pictures. All palaces were beautiful, but quite similar for their Jeosan dynasty look. Therefore, if you're in a time crunch and would like to only visit one, make sure to go to Changdeokgung palace. This is the ultimate (hilarious) way to memorize your trip.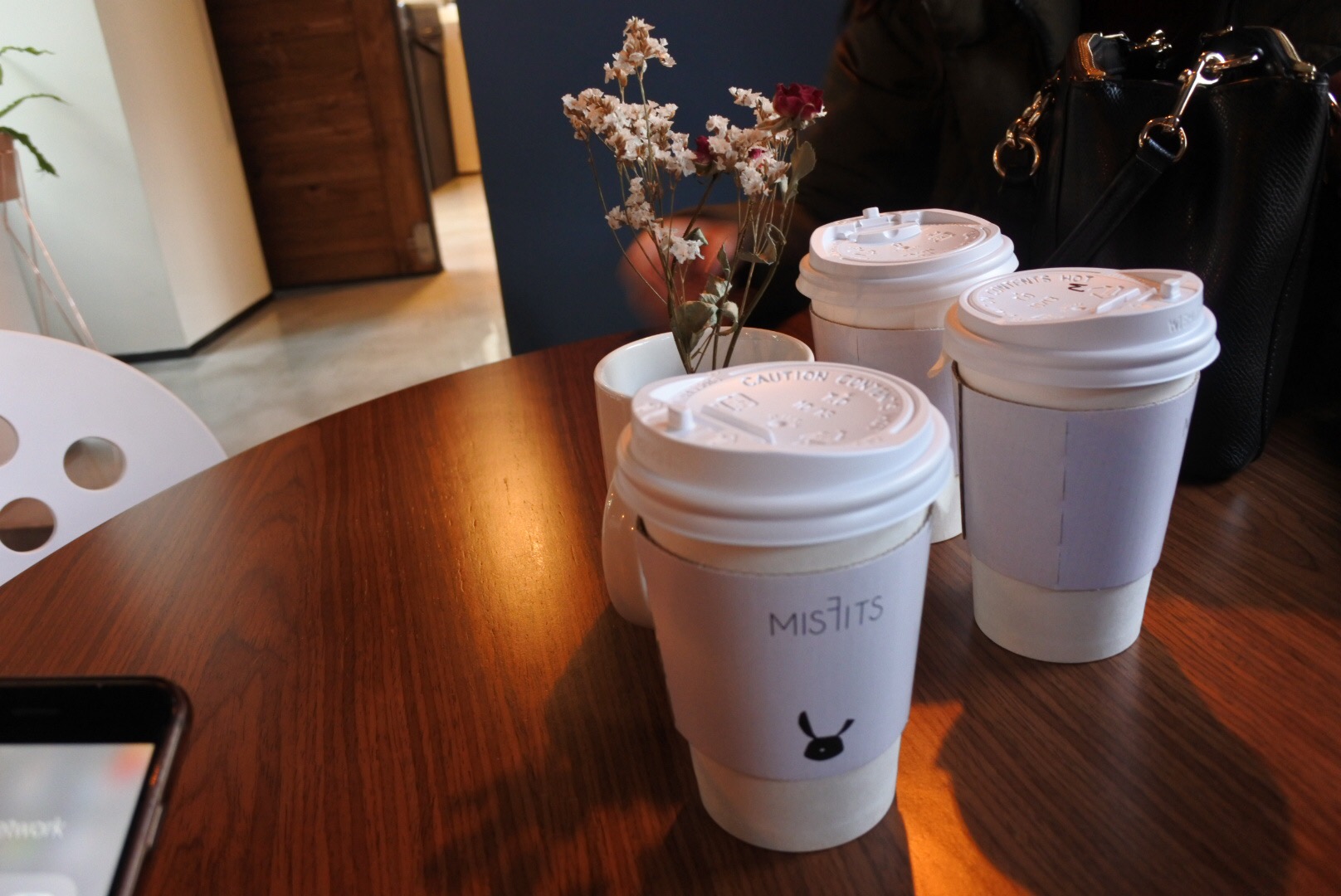 After visiting Seoul for the second time and having the time of my life, I can definitely say that I've left some parts of my soul in Seoul (see what I did there, hehe). What are your personal travel tips for this South Korean metropolis? What other must visit cities can you recommend? Let us know in the comments!